In which cases are concrete pools of the beter series installed
Construction of concrete pools in terms of expediency
After the supply of ready-made composite or, as they are called, fiberglass basins appeared on the market, the question became topical – what is still better? Buy a pool of fiberglass, it is also a composite with subsequent installation? Or maybe still adhere to the traditions, old technologies and choose the path – the construction of concrete pools? And maybe it's because everyone is a lobbyist of his service. It is clear that firms supplying ready-made pools to the market will incline the buyer to purchase composite pools. Do you think it is possible to talk about a swimming pool and not to mention the main material for its construction of concrete, for those whose main business is the construction of concrete pools.
But do not complicate the matter by arguing, pulling the rope and we just list the factors that will lead you to a logical decision – to start the construction of a concrete pool.
Why you should choose a concrete pool:
Your goal is to build a concrete pool of complex shape or large dimensions (large dimensions extend beyond 12 meters in length and 5 meters in width). No manufacturer of composite, fiberglass pools purely for technical reasons is not able to offer you anything.
You are dreaming of setting up a swimming pool with a springboard and enjoying diving from a great height, for which you need a depth of more than two meters.
You are ready for some, and maybe specific, investments for one-off minor repairs a year and once every eight years for major repairs of the pool lining.
You can allocate the necessary time to clean the surface of the pool once a week.
You are a supporter of use everywhere, and in particular when building a concrete pool, natural, environmentally friendly materials.
Dream to have on your own site a mini real beach, with all the sweetest emotions experienced on this paradise earthly corner.
You have enough time to design, and then build a swimming pool from 4 to 7 months.
And finally, you can afford the considerable expenses for the realization of a dream into reality.
In conclusion, it should be noted that in reality there are factors that will have a logical effect in favor of the solution – the construction of concrete pools. If these factors will be sufficient for you to do so, we are our mission, we deem reached half. And the other half will be the embodiment of your beautiful dream into a real life in the best business and creative impulse of our company.

Learn How to build a swimming pool

1.Preparation of the excavation


3.Installation of wall panels


5.Installation of wall panels is over


7.Concreting the bottom of the cup

8.Concreting of the bowl is over

9.Concrete basin Bowl ready
The concept of "reinforced concrete structure"
Company B.N.V. developed the concept of "reinforced concrete structure". It is for this concept is the construction of concrete pools. The skeleton of the bowl is assembled according to the principle of a designer from wall panels with a length of 1 meter, which makes it possible to build pools of any shape and any depth. Hollow panels are poured with concrete: Such a structure will be resistant to frost and soil movement. The strength of such a concrete structure, tested at many sites since 2004, is such that each concrete bowl is provided with a 10-year warranty period from the manufacturer itself.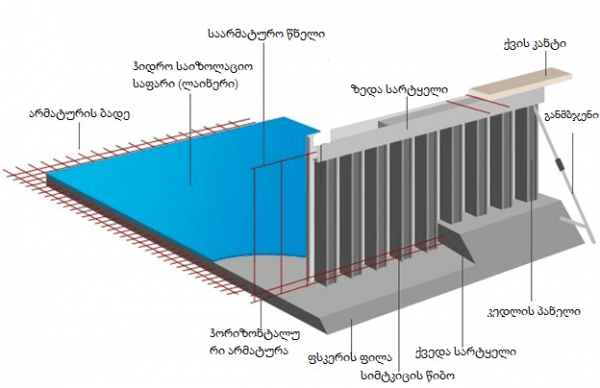 Our technology allows you to do without a foundation, as the pools are installed directly on the mainland. Significantly cheaper and shorter construction time due to the use of wall panels with simultaneous concreting walls and bottom of the bowl. Then the pool is ready for cladding, a sealed liner is fixed on the upper edge of the pool edge and spreads it inside the bowl. The liner makes the pool walls waterproof, and the pool maintenance is easy. There are no tube holes in the swimming pool bowl, as the B.N.V. Georgia technology uses a closed filtration system that significantly reduces the risk of water leakage. All necessary equipment for swimming pools is installed on the upper edge of the pool side. Hinged filtration and counterflow systems for swimming pools take care of all water treatment issues, can provide illumination, create intense water flow and much more.